zaha hadid architects (ZHA) completes a topographical promenade intervention along hamburg's elbe river at niederhafen. hugging a 625 meter stretch of waterfront between st. pauli landungsbrücken and baumwall, the upgraded riverwalk plays an integral role in the modernization and reinforcement of the city's flood protection system. the area had first undergone major development in the mid twentieth century following the aftermath of fatal storm surge floods in 1962. before the end of the decade the city had developed a barrier along the banks of the elbe at niederhafen to protect the city against floods up to a height 7.2 meters above sea level. more recently, hydrology and computer simulations have calculated that an increase in the barrier height of 0.8 meters was required to prevent future destruction by winter storm surges and extreme high tides, thus sparking the design of the zaha hadid hamburg river promenade.
all images © piet niemann
in response to the need for increased flood protection, the city of hamburg hosted a competition to design the redeveloped barrier, ultimately awarding the project to zaha hadid architects. hamburg's niederhafen flood protection barrier is sited at a prominent location integrating the city's renowned, touristic riverside promenade — one of hamburg's most important public spaces. situated atop the original flood protection barrier, the promenade offers uninterrupted views of the elbe and the port. with the completion of the project, the redevelopment of hamburg's niederhafen flood protection barrier re-connects its river promenade with the surrounding urban fabric of the city, serving as a popular riverside walkway while generating links with adjacent neighborhoods.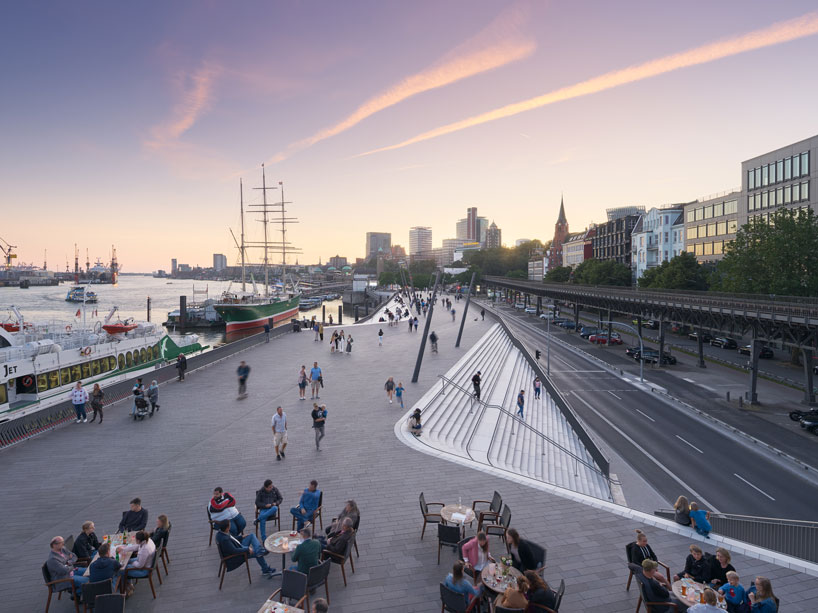 hamburg's niederhafen promenade is expressed as a series of sweeping staircases carved out of the flood protection barrier, generating a new topographic condition. these small amphitheaters are situated at points of intersection between the structure and the streets from the adjacent neighborhoods, generating street-level views toward both the top of the barrier and the masts and superstructures of ships in the elbe. the zaha hadid project is divided into two sections with different spatial qualities. the zone to the west is at a larger scale, offering wide views downstream of all shipping activity on the river. to the east, the port's marina creates a more intimate atmosphere with a long ramp alongside the amphitheatre leading visitors down to the water's edge.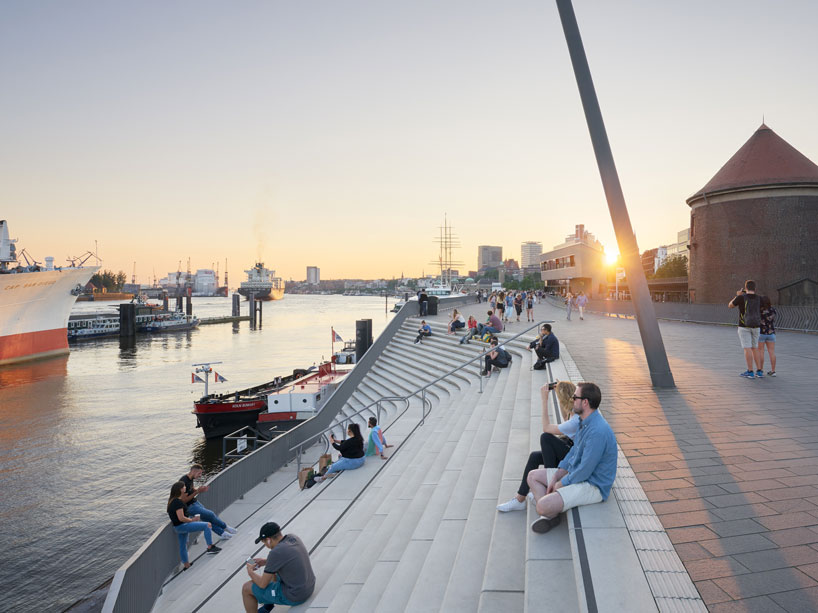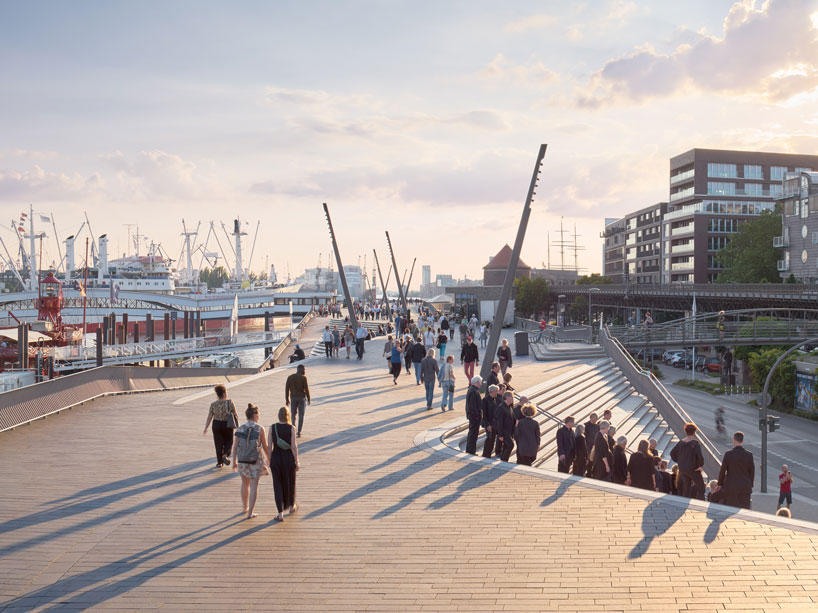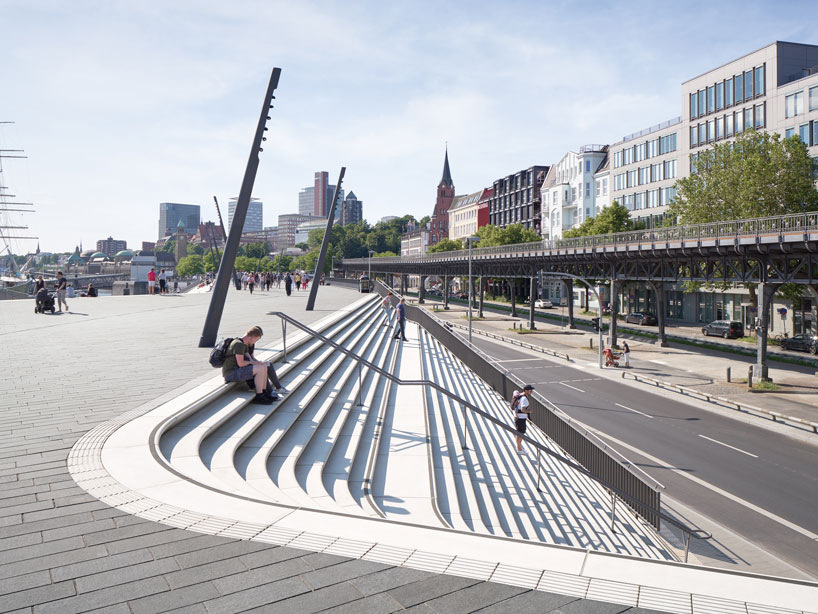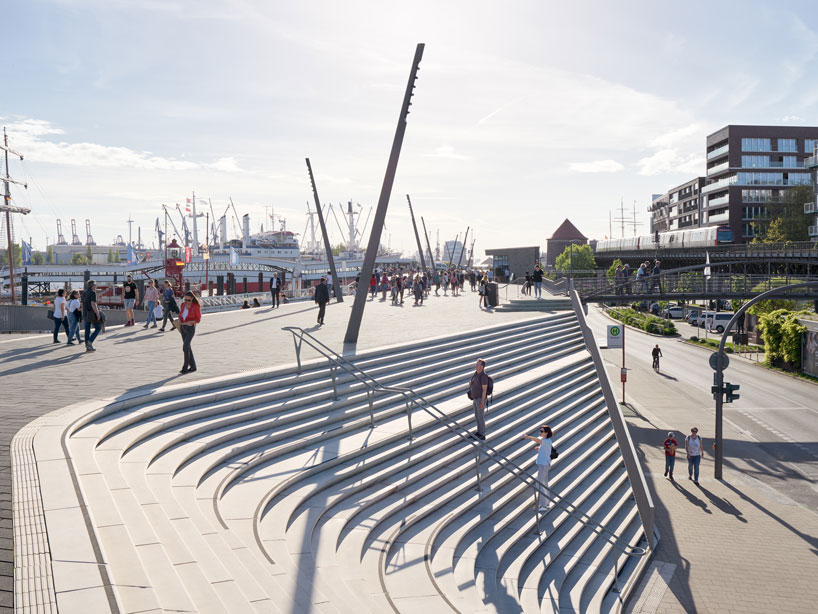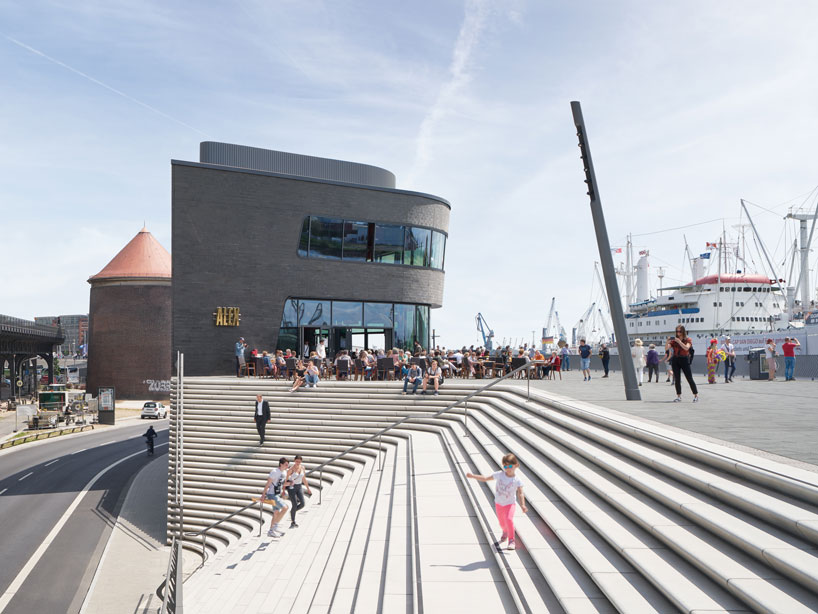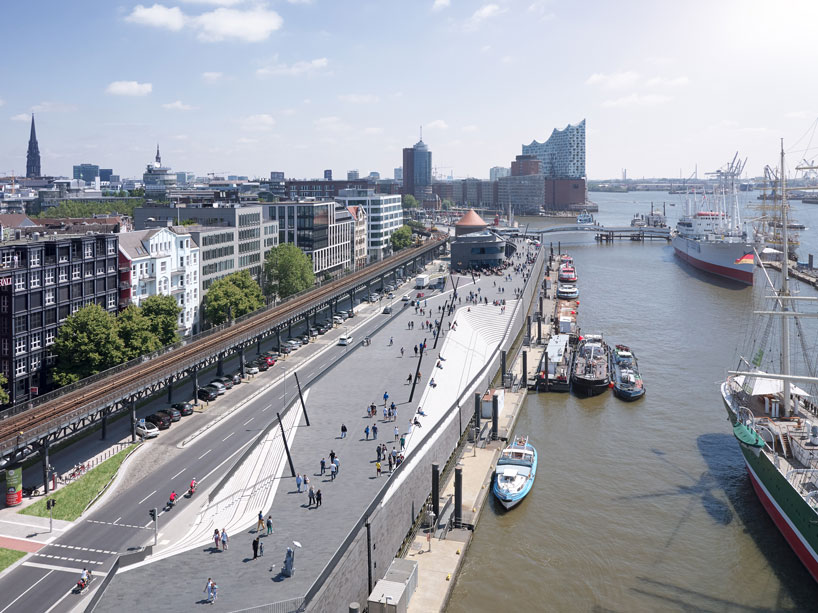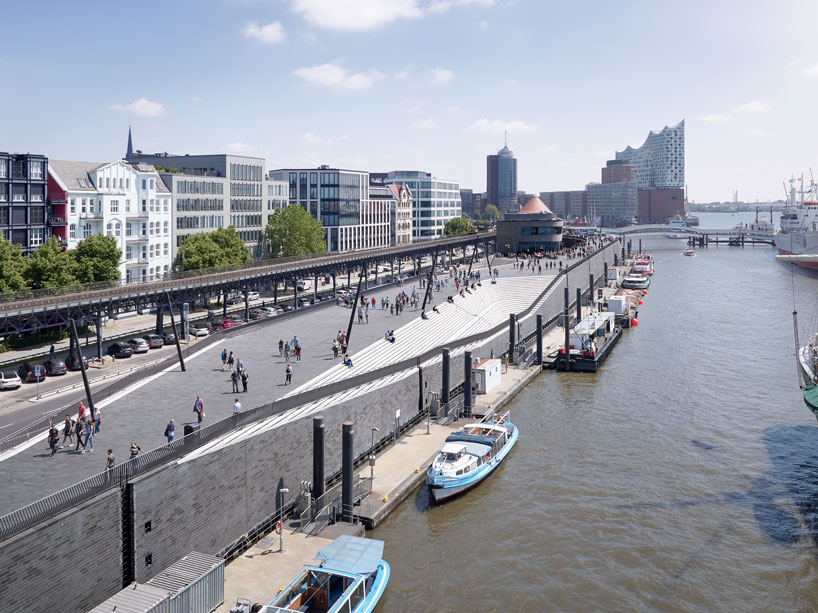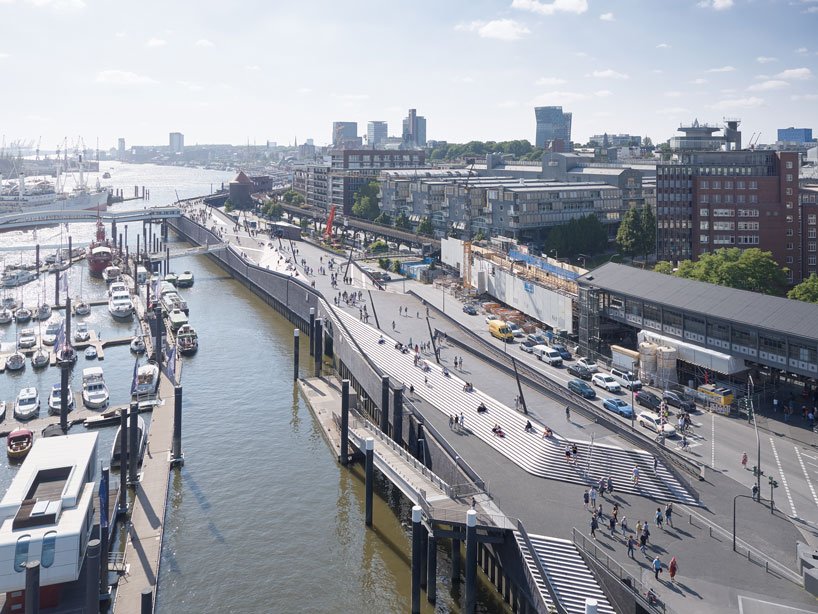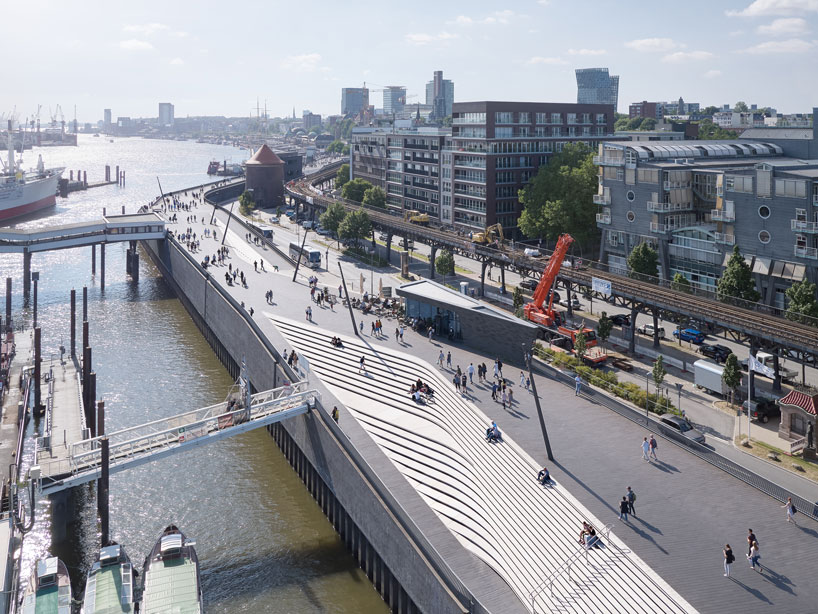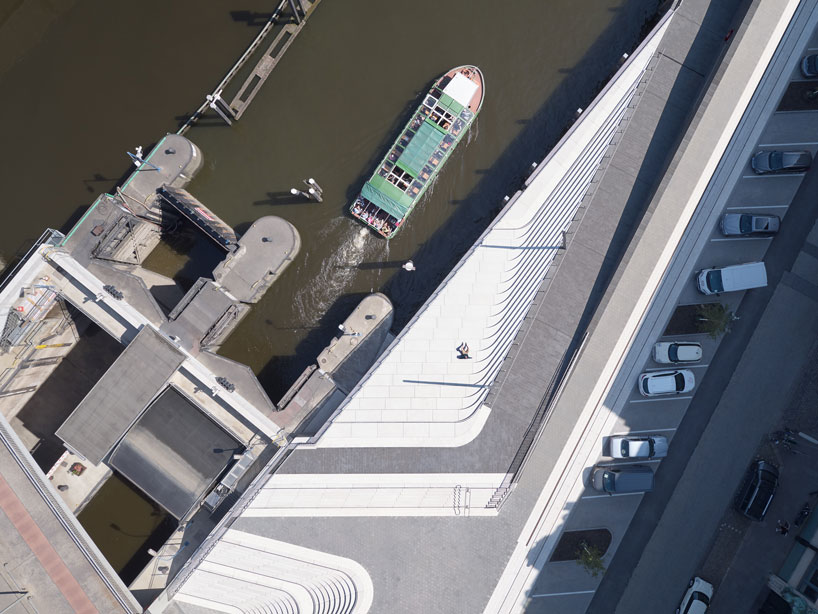 project info:
project title: niederhafen river promenade
architecture: zaha hadid architects (ZHA)
location: hamburg, germany
client: hamburg road, bridge, waterways & flood protection agency (LSBG)
design (ZHA): zaha hadid & patrik schumacher
ZHA project team: jan hübener (project leader), niels kespohl, cornelius schlotthauer, rassul wassa, walentina tradowski, gonzalo carbajo, eren ciraci
project & support structure planning: ingenieurbüro grassl gmbh
road & traffic planning: schmeck-junker ingenieurgesellschaft mbh
technical building services: rmn ingenieure
geotechnical consulting: grundbauingenieure steinfield und partner gbr
environmental impact assessment: landschaft & plan
photography: piet niemann
Let's block ads! (Why?)