this summer, the can explore how burle marx's garden designs were fully integrated with his artistic work, understand his passion for botany and plant exploration, and learn about his longtime advocacy for plant conservation.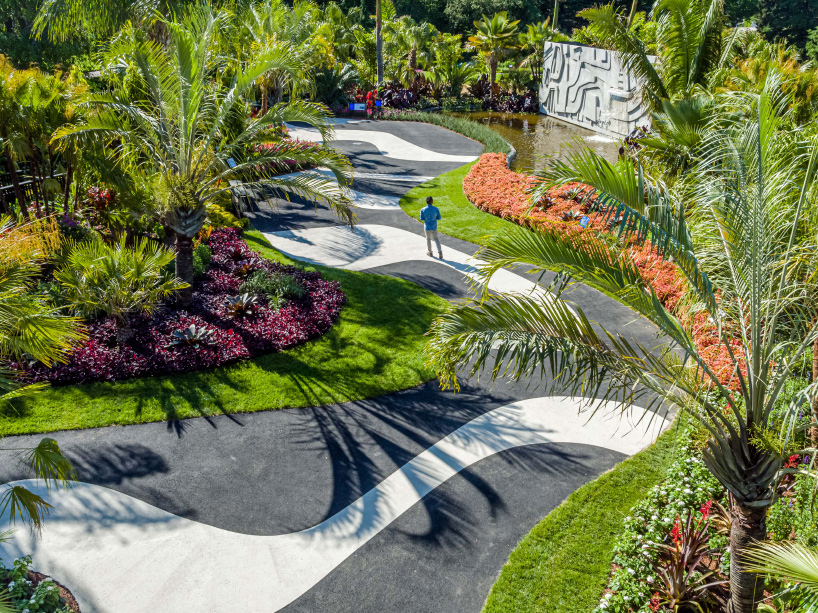 the garden was designed by raymond jungles
image courtesy of the new york botanical garden
a series of installations at the enid a. haupt conservatory bring burle marx's landscape designs to life. contemporary landscape architect raymond jungles, who was a protégé of burle marx, has designed a modernist garden on a portion of NYBG's conservatory lawn, an explorer's garden in a seasonal exhibition gallery of the conservatory, and a water garden in the conservatory's hardy courtyard.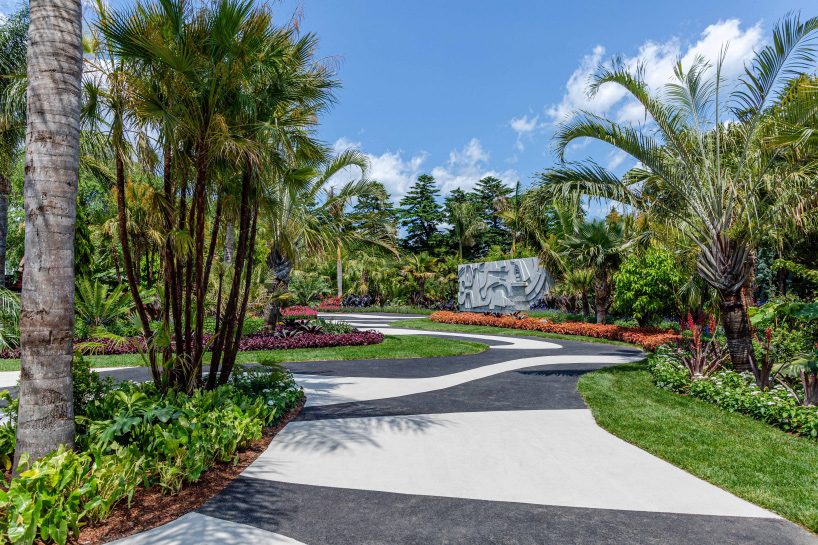 the patterned pathway is influenced by burle marx's designs
image courtesy of the new york botanical garden
in the modernist garden, patterned pathways, reminiscent of the walkways at copacabana beach, lead visitors through rectilinear planting beds towards an open plaza. here, a large pool is framed by sculptural water feature: a wall carved in relief that recalls a burle marx installation in the banco safra headquarters in são paulo.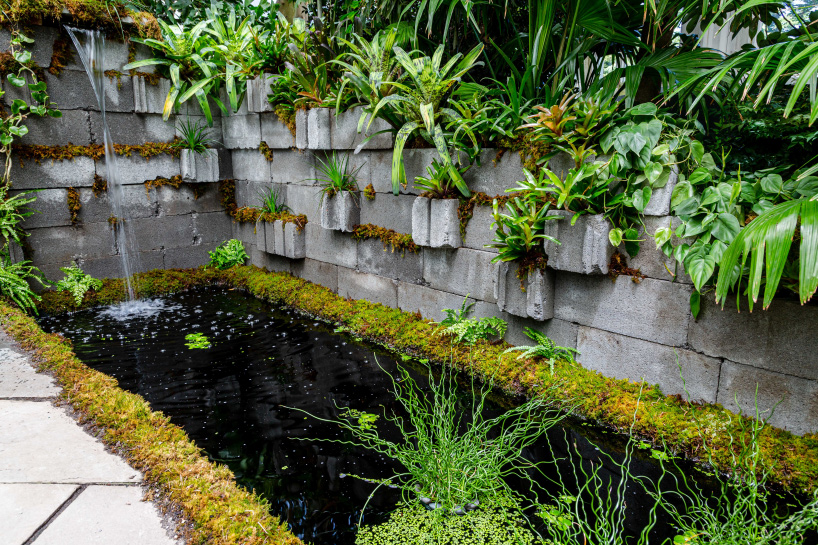 a water feature in the explorer's garden
image courtesy of the new york botanical garden
moving inside the conservatory, the explorer's garden highlights a range of tropical rain forest plants — including those that were among burle marx's favorites and were often incorporated into the landscapes he designed. the installation is inspired by burle marx's efforts to introduce brazilians to their country's biodiversity through his landscape designs. the water garden, found in the conservatory's hardy courtyard, explores burle marx's plantsmanship and celebrates his use of plants from a variety of tropical regions in brazil and beyond.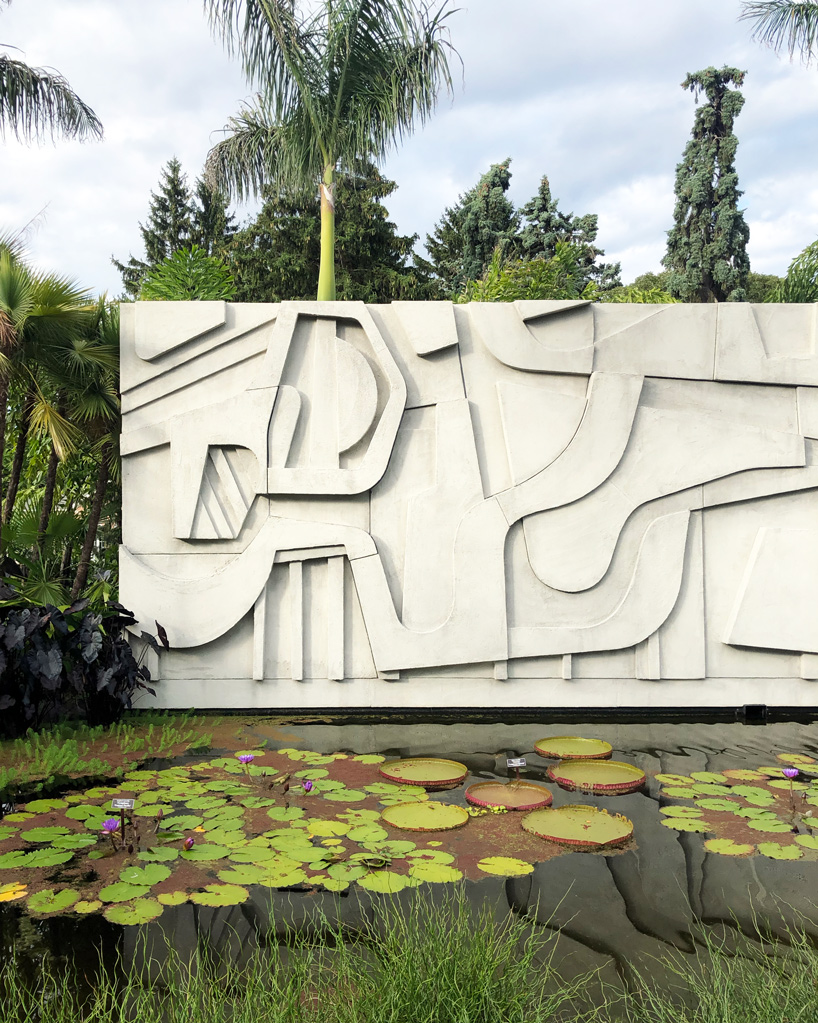 a wall carved in relief is influenced by a burle marx installation in a banking HQ in são paulo
image © designboom
elsewhere, an exhibition of roberto burle marx's paintings, drawings, and textiles, is on view in the art gallery of the NYBG library. inspired by the culture and nature of brazil, and drawn from the final 30 years burle marx's career (1964–94), the collection of work allows visitors to better understand the interconnected threads of his artistic practice.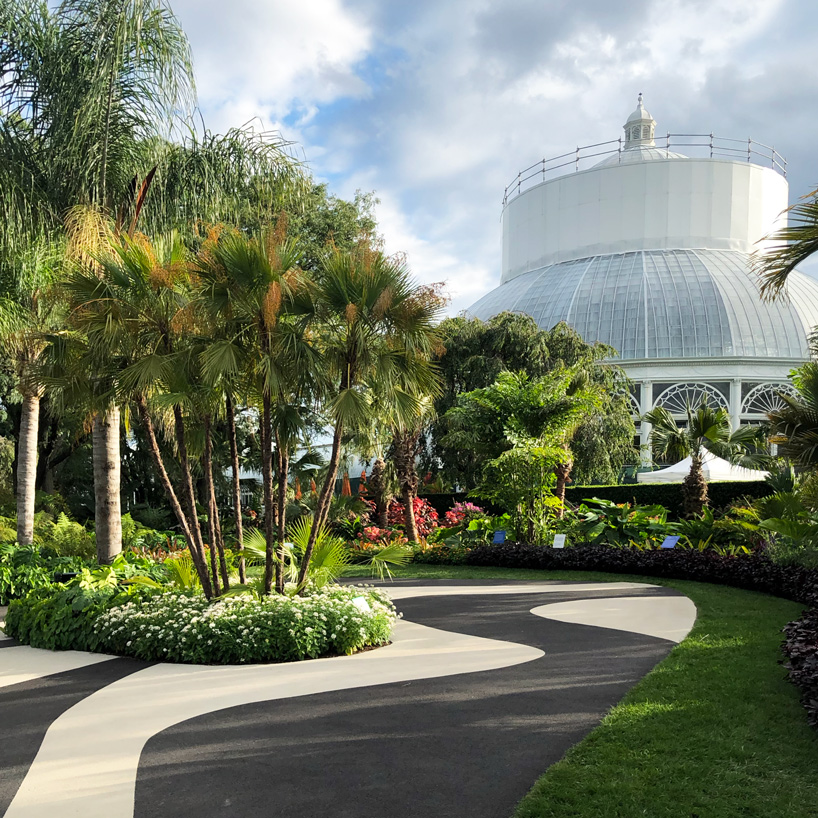 palms provide a sense of scale and enhance the tropical nature of the garden
image © designboom
meanwhile, the library building's britton rotunda brings to life the sítio roberto burle marx — the estate the artist purchased in 1949. the site houses a nursery, multiple gardens, greenhouses, and a studio, as well as burle marx's home, where he lived, worked, and entertained friends and colleagues — many of whom were leading botanists, artists, and cultural figures. finally, a performing arts series — titled artes brasileiras — showcases the wide range of brazilian music and dance that permeated burle marx's home and life. music (saturdays) and dance (sundays) performances take place each weekend for the duration of the exhibition, which concludes on september 29, 2019.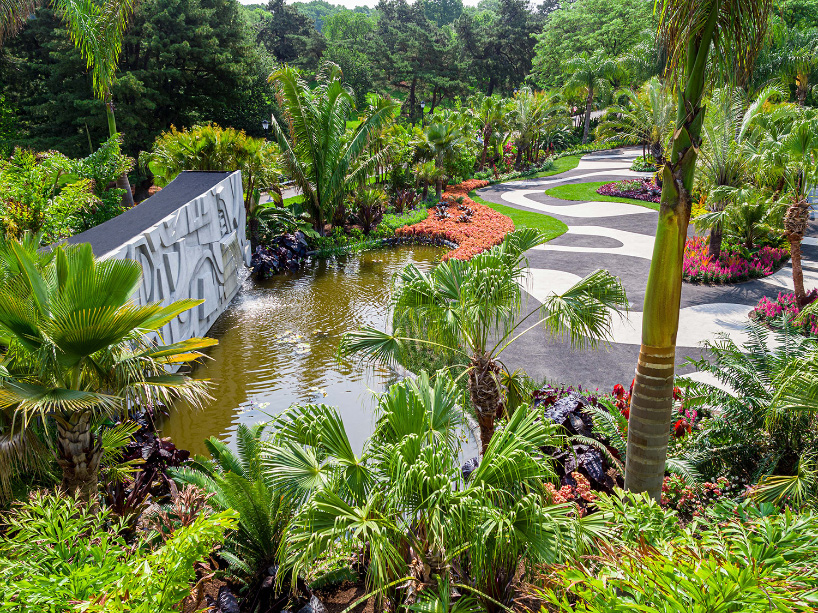 a large sculptural water feature complements the bucolic setting
image courtesy of the new york botanical garden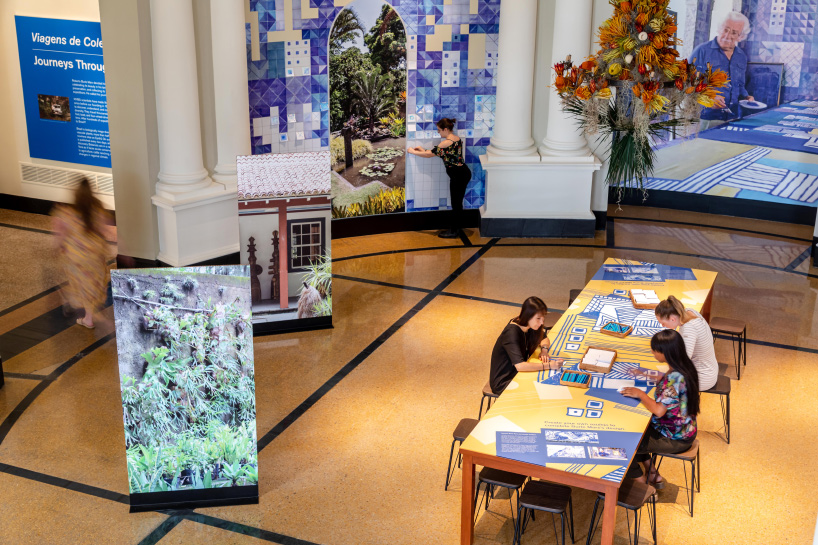 visitors can learn about the artist's estate, where he lived and worked
image courtesy of the new york botanical garden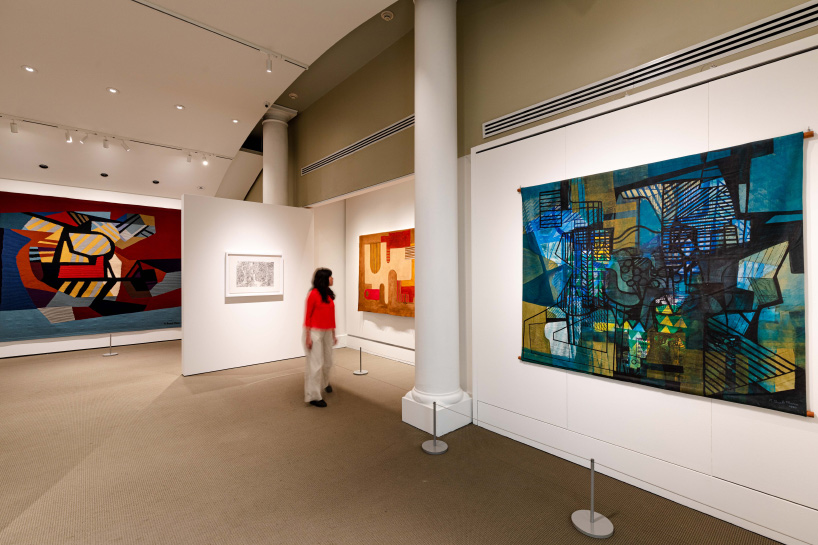 roberto burle marx's vibrant paintings, drawings, and textiles are also on view
image courtesy of the new york botanical garden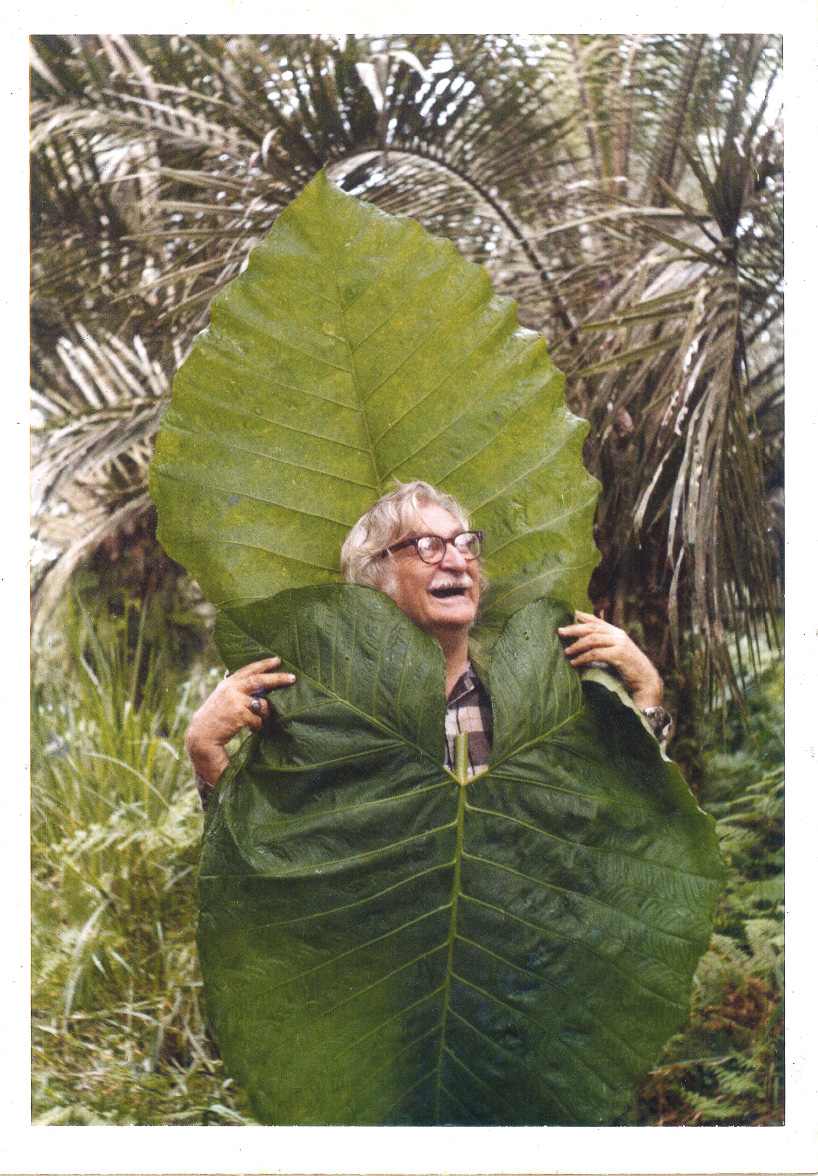 roberto burle marx during a botanical expedition in ecuador, 1974
image by luiz knud correia de araújo, archive of luiz antonio correia de araújo
'brazilian modern' remains on view until september 29, 2019
video courtesy of the new york botanical garden
project info:
title: brazilian modern: the living art of roberto burle marx
location: the new york botanical garden, 2900 southern blvd, the bronx, NY 10458
exhibition dates: june 8 — september 29, 2019
philip stevens I designboom
sep 11, 2019
Let's block ads! (Why?)