are you knowledgeable about architecture, design, art, and technology? passionate about writing, communication, and digital media? want to make a meaningful contribution to contemporary culture? designboom is seeking an intern to join us at our office in NEW YORK. we're currently accepting applications for:
• an editorial internship with a focus on ARCHITECTURE & DESIGN   
a team of professional designers and architects ourselves, we work on a daily basis with creatives from around the world. by publishing the latest news and key issues in the fields of architecture, design, technology and art, our mission over the past 18 years has remained the same: unearthing the best projects and curating a selection of the most interesting aspects of contemporary culture. today, designboom is a comprehensive source with over 43,000 articles worth of useful information and insightful interviews, studio visits, documentation of new products, reviews of exhibitions and books, and historical surveys.
as part of the designboom internship, you will be given responsibilities that are essential to the management and continued success of our publication. during your time with us you will learn a lot, and quickly become experienced in a variety of creative topics. as an active member of our team, you will have the opportunity to travel and represent designboom at a variety of exhibitions and events.
we're looking for someone who is:
• informed and interested in architecture, design, technology and art
• passionate about contemporary culture
• has a good working knowledge of photoshop, image and video editing
• interested in social media strategies 
• enjoys writing and digital media
• has the initiative to perform under deadline pressure
• highly organized and efficient
• a fluent english speaker 
we're seeking a creative and enthusiastic individual who is interested in developing his/her knowledge through research, writing, and editing articles for designboom. the young candidate will contribute to the day-to-day production of designboom's editorial content, work closely with our new york directors on publishing a range of news and projects, and engage with creatives and project authors directly. 
all applicants should have strong verbal and written communication skills, an eye for detail, and background in architecture/design. proficiency with social media and a developed knowledge of video editing and photoshop is strongly encouraged.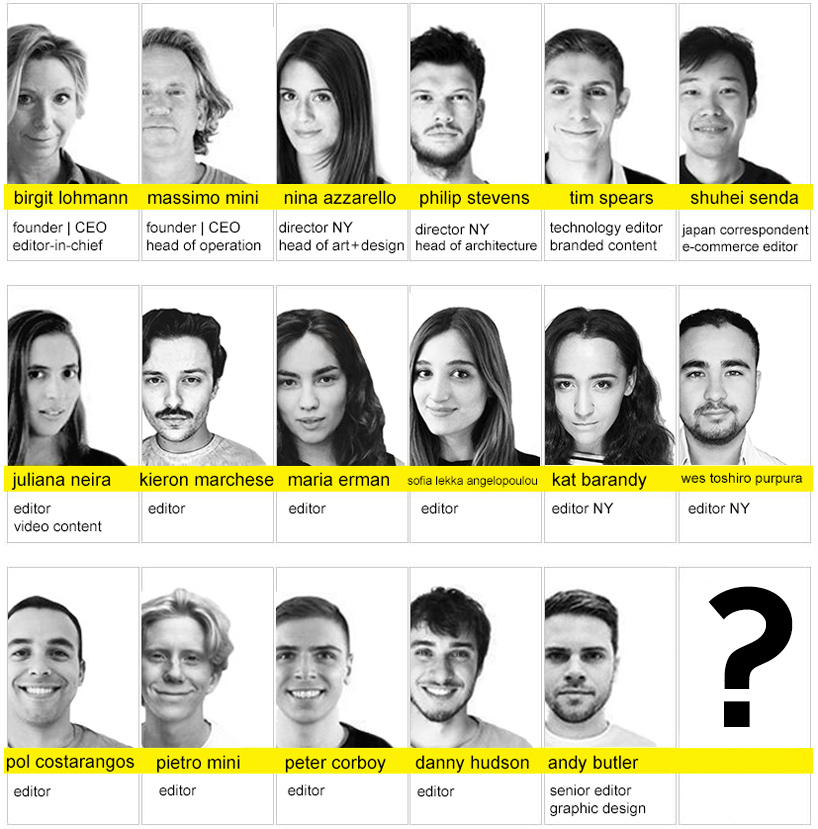 THE DETAILS:
you will work with designboom's team in brooklyn, new york where you will be an essential member of an international group of passionate people focused on publishing the latest news and key issues in the fields of architecture, design, technology and art. you will report directly to designboom's new york directors and be responsible for developing content on designboom. working hours are monday to friday, 9AM – 6PM. you will receive a monthly stipend. the position is 4 months long in duration, beginning as soon as possible. 
HOW TO APPLY:
applications should be submitted via email to: [email protected] 
with the subject line: designboom internship NEW YORK
to be considered, please include the following in your email: 
• a statement of interest
• your resumé (CV)
• where you are currently based
• links to examples of your writing 
• links to examples of your social media outlets 
• a portrait picture
due to the amount of applications we receive, only successful candidates will be contacted.
Save
Save
Save
Save
nina azzarello I designboom
oct 09, 2018
Let's block ads! (Why?)